Should Broome Airport be moved??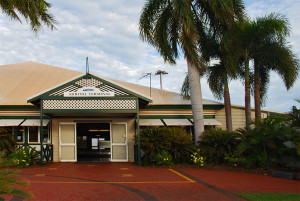 What is the opinion of the Broome Community with regards to the re-location of the Broome Airport?
How long have we held to the tradition of planes flying over Sun Pictures and having a laugh at tourists ducking for cover as planes flew overhead?
With the addition of an onshore helicopter base servicing the mining sector, air traffic noise has risen immensely over the years. Today in 2013, it is hard to make yourself heard while dining alfreso in Chinatown.
Once a popular destination, for Film Makers and the like .. film producers are less interested in using Broome as a location due to the downtime in recording whilst waiting for aircraft to pass.
In April 1991, Airport Engineering Services (AES) were granted freehold title of the Broome Airport from the Australian Commonwealth Government and the Shire of Broome by a Heads of Agreement. The AES were given Roebuck Estate and the Boulevard Shopping Centre to develop and the profits were to be used for relocation. The State also granted AES freehold title to land identified for relocation, 13.5 kms from Broome.
Again in 2005, the Broome Planning Steering Committee Report established a position that the airport should be relocated to the site out of town.
Click here for the 2005 Broome Planning Steering Committee Report
At the 2040 Visions of Broome Workshop, a Broome Shire initiative, it was suggested that the airport be moved to make way for the expansion of the town centre, Chinatown. Airport owners now say it is too expensive to relocate. ?????