There are many great places to visit on your way down south from Broome. Whether its for some exceptional fishing, or just to laze on the beach, dont drive past some of these beautiful out of the way places. Click on the images for a larger view, then click on them again, for easier navigation.

Port Smith
160 kilometres south of Broome, lies Port Smith. The turquoise waters offer great swimming and fishing.
Port Smith Caravan Park is within walking distance and is home to an animal refuge. There is an amazing array of birds and wildlife and a 9 hole bush golf course. Check out their awesome KWD website, lol! http://www.portsmithcaravanpark.com.au/
Bidyadanga Community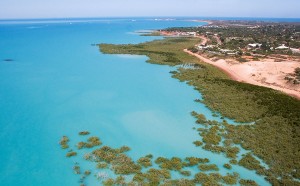 Bidyadanga is a beautiful aboriginal community, found on the coast at La Grange Bay, 180km south of Broome. The population of Bidyadanga is approximately 900 and boasts a large community store, fuel outlet, a police station, school, telecentre, and a community swimming pool. Fishing is a favorite pastime of the community and there are a number of Creeks and Beaches to explore. This is the traditional country of the Karajarri People who had their native title acknowledged by the Federal Court of Australia in 2003. For many years it was known as La Grange station. Over 50 years ago the La Grange Mission was established and became a protectorate for local Aboriginal people, shielding them from the exploitation of the local pearlers who lived in camps along the coast. Visitors to Bidyadanga are required to sign in at the Community Office, and call into the Rangers Office for registration before proceeding to fishing grounds, as some areas are restricted to visitors.
Eco Beach
Eco Beach is situated directly across Roebuck Bay from Broome and is home to the Eco Beach Resort which was completely wiped out in April, 2000 by category 5, Cyclone Rosita.
In the aftermath, just 14 out of the 41 wooden huts at Eco Beach stood intact. Fortunately Eco Beach Resort has been rebuilt and is once again a popular tourist destination.
Barn Hill
128 kms south of Broome and 9 km off the Great Northern Highway is the Barn Hill Station Stay. There are powered and unpowered sites for caravans and campers, and fully self-contained rammed earth huts. Dogs are allowed but there are the usual rules and there is grass called wiregrass which is a real problem, causing sores. The beach here is lovely and the unpowered sites on the top of the cliff on the beach are beautiful for sunrises and sunsets. There are long lazy walks along the beach and some of the rock formations are amazing. Fishing is also great around here.