Due to COVID many of the communities and accommodation maybe closed, please check with the individual places
Dampier Peninsula .. Broome's best kept secret
4WDriving up the once treacherous Cape Leveque Road has been transformed into a fully sealed road. That being said, there are alot of tracks that should not be accessed by tourists — for privacy, landowner and cultural heritage concerns.
High clearance, 4×4 vehicles are still needed if you plan to access many of the locations, as the access roads into some locations are unsealed.
The Dampier Peninsula is made up of many small Indigenous communities and many have developed eco-tourism ventures. Explore and experience the unique culture, history and lifestyle and taste some bush tucker or enjoy one of the fishing, mud crabbing, and bushwalking tours.
Fuel and supplies can be purchased but facilities are only available at certain locations and times.
Please note dogs are not allowed, alcohol cannot be purchased anywhere on the Peninsula and medical facilities are limited. As you travel through this pristine area, you are asked to respect the land, the culture and the privacy of local people where access is restricted.
James Price Point
50km north of Broome on one of the world's most pristine coastlines, is the proposed site for the largest gas processing plant in the world. An undeniably beautiful part of the world with its towering red pindan cliffs and home to the largest known dinosaur footprint on the planet and countless endangered turtles and bilbies. It is home to the Lurujarri Heritage Trail, an ancient songline and a sanctuary/nursery for the humpback whale.

Beagle Bay Church
A two to three-hour drive, depending on how fast you drive, up the Cape Leveque Road brings you to Beagle Bay, an Aboriginal Community, host to the Sacred Heart Church with its famous Mother of Pearl Shell Altar.
The church was built during the first world war, entirely by hand of the local Aborigines, (the Nyul Nyul people) and the Pallottine monks.  A remarkable achievement for those times when the only access to country, was by sea.  It took some 60,000 hand made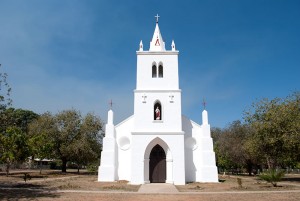 bricks and day after day, parties set off into the bush or to the coast to cut timber, cart sand, dig clay and gather tons of broken shells for lime.
The interior of the church is decorated with shells, including mother of pearl, cowries, volutes and olives. While the mother of pearl has been used to decorate the main altar, the side altars are inlaid with opercula, a rare stone taken from shellfish.
Some of the decoration formed the tribal symbols of the Nyul Nyul, the Nimanborr and the Bard people of the area while others formed the lamb, the fish and shepherd's crook of the Christian faith. (Excerpt from Catholic Diocese of Broome)

Kooljaman Resort, Cape Leveque
Kooljaman is currently closed and they don't have a reopening date, so no bookings for future stays.
220kms up the Cape Leveque Road, on the tip of the Dampier Peninsula lies Kooljaman Resort, a unique wilderness style luxury camp.
A great place to relax, swim, fish, and the coral reefs there are outstanding. Nearby is Hunter Creek which is a beautiful place to swim in the crystal clear pools when the tide has gone out.
Visit their website
Middle Lagoon
Locals and visitors from all over the world come to stay at "Nature's Hideaway". There are cabins perched up on top of the cliffs with sweeping views of the bay as well as camping accommodation and my favourite the very basic beach shelters where you can listen to the surf almost lapping at your door. At night nothing beats the camp fire. The fishing is great and swimming is safe most times of the year.  Middle Lagoon Email
Visit their website
Munget
Whalesong Cafe, Campground & Camels.
170 kms up the Cape Leveque Road overlooking the southern end of Pender Bay is the idyllic and secluded Munget, a family operated business.
It offers spectacular panoramic views and you will be enchanted by the ever-changing colours of this landscape. Explore isolated beaches and the virgin bush with bush tucker fruits, wildlife and birds.
Stunning red pindan cliffs give way to white sand and the deep blue waters of the bay, a favourite spot for humpback whales and their calves to rest on their way south. Camp Grounds & Secluded Bush Retreat Style Accommodation and Camel Treks available.
Tel: (08) 91 924 000   Click here to email us

Chile Creek
Stay, relax and unwind at one of the Dampier Peninsula's most picturesque and tropical locations. Chile Creek Community offers visitors a unique insight into the culture and lifestyle of this remote indigenous community. Bookings by telephone:  Australia 08 9192 4141 or 0438 849 837  ..  International +618 9192 4141

Banana Well Getaway
Banana Well Getaway is an accessible, beautiful wilderness paradise. A place to unwind and escape to the natural surroundings, in the heart of the Nyul-Nyul country, situated 140km north of Broome and approximately 20 kms south of Beagle Bay.
Accommodation options range from powered and unpowered caravan and camping sites, to single and double, air-condition units. Enjoy fishing, mud crabbing, bird watching, bush walking, or soak up the peace and quiet and the stunning sunrises and sunsets, or just laze around and feed our peacocks and ducks!
Visit their website
Email: burrgukcorp@bigpond.com

Goombaragin Eco Retreat
Escape to this beautiful coastal retreat to enjoy the spectacular panoramic ocean views of Pender Bay on the Dampier Peninsula and its rich culture. Goombaragin is just over two hour's drive north of Broome.
Explore striking cliffs, beautiful bays and wild woodlands
Enjoy freshly caught seafood around the campfire
Enter a journey of connection with country and culture
Encounter serenity at an exclusive destination
Embrace luxury in a cliff-top chalet
Goombaragin Eco Retreat is private and exclusive catering for a limited number of guests at any one time ensuring a unique eco experience. Contact: Kathleen Cox and John McLennan. Kathleen: 0429 505 347 John: 0417 971 012
Visit their website
Quandong/Kardilakan
The local Aboriginal name (Goolarabooloo) for Quandong Point is "Kardilakan".
Kardilakan has long been a favourite of locals and tourists alike. It offers free camping spaces, located right above the beach and each campsite is at least 100 metres from the next. Some spots offer shade but mostly the cool breezes from the ocean are enough, along with fantastic views of the beach and reef. There is a white sandy beach, perfect for beachcombing and relaxing and then the reef. The reef offers fantastic fun for all, although it is best to be prepared and make sure everyone has reef boots as the reef can also be a dangerous place, with blue ring octopus and the occasional stonefish both of which are very deadly. Keep in mind that you are also a long bumpy road from medical attention. That being said the reef holds a wealth of marine life with clamshells, that spit water at you if you touch them, the occasional nautilus shell, baler shells, corals, crabs and little fish.
It is also essential to make sure you know the tide times, as without being aware, the tide can change and you can be stranded by gradually deepening water. This is particularly relevant on the big tides. It is often very hard to see the rocky bottom when trying to make your way back to shore and more so if you have young children or people who are not agile. The outer edges of Quandong Reef offers the best corals and abundance of sea creatures, so make sure you go out with the outgoing tide and remain aware. I know I have nearly been caught many times. There are also some great rock pools, that are a delight for young children, full of interesting things the tide left behind, and I have even seen some baby turtles. There are rocks to snorkel around, rocks to fish off, hermit crabs to race, brolgas, goannas, bush tucker and whale watching!
Depending on what time of the year you visit, there are sometimes hardly any people. The beaches in the early morning and sunset are simply beautiful with the turquoise water and red pindan cliffs. June to August are the busiest, but August offers spectacular views of the world's largest population of migrating humpback whales.
Quandong is approximately 50km from Broome, the access road is quite rough and corrugated in places so the going can be quite slow. The first 25kms up the Cape Leveque Road is bitumenised but from the turnoff to Quandong it's dirt all the way, with some boggy soft sand near the campsites. There are no facilities, it is truly bush camping, bring your own everything including water.
The campground is named after the Quandong, a wild desert fruit (sometimes referred to as Wild Peach). The Quandong fruit was an important food source for Aboriginal inhabitants of the area.