Broome Art – Lovers of Art
Broome has an astounding wellspring of talented artists, many of whom have been inspired by the people and surroundings of Broome and the Kimberley. For those of you who like to spend some time being enchanted by local contemporary artists, you will love the diversity and outstanding calibre of "Broome Artists" and "Photographers", for all you lovers of art.
Changing the colours of the Kimberley
Saturday 14th September – 5pm to 8pm is the opening of an exhibition by local derby photographer, Mary Jane Foster. Read more ..
Art above the 26th
Exhibition Opening 22nd August 6pm – 8pm Read more ..
Kimberley Photos – though not yet claiming a gallery does have an online gallery which aims to showcase the stunning landscape of the "Kimberley". Featuring Broome, Kimberley Wildlife, Kimberley Birdlife, Kimberley Wildflowers, some beautiful storms and sunsets and the stunning Bucanneer Archipelago, all photos available for online purchasing.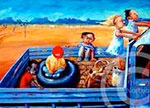 Cockatoo Gallery
Helen Norton's obvious love of the outback and her curiosity around the human condition is brilliantly captured in her internationally acclaimed work. Website Tel: (08) 9336 5130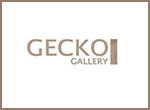 Gecko Gallery is situated in Short Street,Chinatown and features exhibitions of Indigenous fine art from the Kimberley Region, Central and Western Deserts, Tiwi Islands and Arnhemland. We represent a broad range of contemporary art and fine craft including; paintings, original prints, fine art glass, objects and fibre craft.  Tel: (08) 9192 8909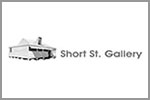 Short Street Gallery – is located, you guessed it, in Short Street, in the heart of Chinatown. The historic building, (over 100 years old), has been operating as a gallery since 1998, and houses a comprehensive collection of indigenous contemporary artworks from all over Australia.  Tel: (08) 9192 2658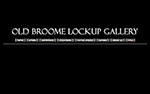 Old Broome Lock-up Gallery built in 1895, is now a gallery to some of the region's most unique art works, many created on the premises by resident artists. In addition to works by Clifton Jungurrayi Bieundurry, Yute Bannatee and Bonny Sampi, the Gallery also boasts the Kimberleys' best Didjeridoo selection, with lessons and fantastic instruments available. The Old Broome Lockup Gallery is also the foundation Gallery for the Nomad Two World project. Phone: 08 9193 5633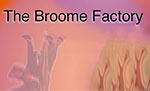 The Broome Factory located at 9 Farrell Street has a beautiful exhibition of local artists.  Featuring; Stuart Tatnell (wood sculptor), Hiromi Ashlin (origami), Karin Brittain (glass sculptor), Lachie Fraser (furnishings sculptor), Nigel Gaunt (Photography), Agnes Pas (Jeweller), Johan Pas (Natural History Artist), Marilyn Tabatznik (Sculptor) Tel: 08 9192 6243.
Damian Kelly Photography is inspired by the beauty of the Kimberley which he portrays in stunning photographic art. Website  Tel: 0459 233 780
Gallery Sobrane located in Captain Gregory's House, call 0438 023 394.
Visit Red Dirt Photography at 2/10 Carnarvon Street, Chinatown. Photographic Tours are also available, where Nigel will help you unlock the secrets of landscape photography, so you can stop buying postcards, and learn to capture the true beauty of this spectacular region.  Website  Tel: 08 9192 2334
Ushan is an artist who has been painting and creating artwork for over a decade. His style ranges across landscapes, portraits, inspirational art for kids and imaginative illustrations. Mobile: 0414 449 144