Broome and Kimberley Tours
Welcome to our Broome and the Kimberley Tours Page. We envisage this page to offer a quick reference for visitors travelling to Broome to showcase what's on offer. No matter which tour you select, we are sure that your stay in Broome will be "one to remember".
The Ocean is yours aboard Absolute Ocean Charters! We are the leading marine charter company offering Reef Fishing, Sport Fishing, Whale Watching and SCUBA Diving.  We also offer exclusive Private Charters where you can customise a charter to suit your own needs.
Website   Email  Tel: 0427 798 155
Adventure Wild will take you on a journey through the Kimberley in comfort and style. Travel in luxury 4WD coaches and sleep in easily assembled spacious, safari tents in established camping grounds with excellent facilities.
Website Email  Tel: 1800 359 008
Broome Adventure Company invite you to experience the natural wonders of Broome's spectacular coastline. Enjoy safe, stable and easy to paddle kayaks and join this award winning team on Broome's best Eco Adventure.
Website    Email Tel: 1300 665 888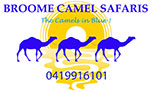 Broome Camel Safaris .. relax as you ride along beautiful Cable Beach, watch as the sun slowly sinks into the Indian Ocean. Meet Alison Bird, Broome's only true 'Camel Lady'.  Learn about the camels nature, habits and contribution to Australia's history.
Website  Email  Tel: (08) 0419 916 101
Enjoy magnificent scenic and historic sights of the Broome town coastline and Roebuck Bay.   Your "flight" includes witty and informative commentary.  See some old, well preserved dinosaur footprints. Talk to us about our Sunset tours, weddings and charters.  Website   Email  Tel: (08) 9193 5025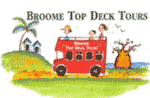 Broome Top Deck Tours offer historical town tours of Broome. For a high quality tour, join this fantastic 2 hour tour!
Tel: 1800 858 985
Don't miss a tour to the Dampier Peninsula with Roger Chomley and his team. 1,2,3 and 4 day options are available with good quality camping equipment and catering complimented by an informative interpretation of this special area.  Tel: (08) 9192 6195
Welcome to Goombaragin Eco Retreat! Escape to this beautiful coastal retreat to enjoy the spectacular panoramic ocean views of Pender Bay on the Dampier Peninsula and its rich culture. Goombaragin is just over two hour's drive north of Broome.  Tel: 0429 505 347
Experience the trip of a lifetime with the Kimberley's most experienced family owned and operated Horizontal Falls tour specialists. Enjoy extra activities: reef walking, fishing, swimming in water holes and beach combing.   Tel: (08) 9192 1172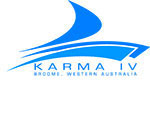 Karma IV is truly one of the most exhilarating vessels to grace the northwest and has rightly earned its place as one of the most successful charter boats in Western Australia. It is famed for its unrivaled trips to the Rowley Shoals and its breath-taking Kimberley cruises, but it is most renowned for its legendary fishing charters. Website  Email  Tel: (08) 9193 5131
Kelk Creek is situated at Djugarargyn, on the Dampier Peninsula,155km north of Broome.  We offer visitors authentic indigenous guided bush walks, and a range of accommodation facilities.  Tel: (08) 9192 4377
Discover the iconic Kimberley landmarks – unique Horizontal Waterfalls, stunning Cape Leveque, spectacular Buccaneer Archipelago, fascinating Cygnet Bay Pearl Farm and Jarlmadangah Aboriginal Community – just to name a few. Website Tel: 0429 112 407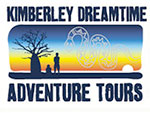 Kimberley Dreamtime Adventure Tours offer 1 and 2 day tours from Broome to Mount Anderson and Jarlmadangah Community. The tours allow visitors to gain a unique insight into the exquisite nature and culture of the Kimberley landscape.
Tel: 0447 214 681 Kimberley Dreamtime Adventures Facebook
Kimberley Wild Expeditions offers Broome tours and Kimberley tours. They include the delicious half day Taste of Broome Tour, plus Kimberley Day Tours that will have you exploring Cape Leveque, Windjana Gorge and Tunnel Creek and taking a cruise through magnificent Geikie Gorge.
Tel: (08) 91 937 778
Kujurta Aboriginal Cultural Tours and Dampier Peninsula Transfer Service – learn traditional fishing methods, watch a demonstration of hunting techniques, taste local bush tucker, hear about Aboriginal history and culture and try your hand at throwing a boomerang or spear.  Tel: (08) 9192 1662
Kuri Bay Sportfishing Tours – Kuri Bay Sportfishing Tours provide some of the best fishing in the world and flying by seaplane over the Kimberley's iconic Horizontal Falls and Montgomery Reef offers spectacular views of the Bucanneer Archipelago Tel: 0407 006 474
The Lady M is designed to make your journey as comfortable as possible. Both of our cruises are an unforgettable journey exploring the Kimberley coast and feature stunning landscapes, rugged gorges and breathtaking waterfalls .. Tel: (08) 9534 8832
The Narlijia Experiences Bart Pigram is a Yawuru man from the West Kimberley region of northwest Australia. Born and bred in Broome Bart has a passion for telling the complete story of life in Broome. Drawing on knowledge gained from living a saltwater lifestyle as well as professional training as a curator Bart started Narlijia Tours in 2015. Website: https://www.toursbroome.com.au/ Tel: (08) 9534 8832
Uptuyu Aboriginal Adventure Tours have a vision, where people from the world over will choose to visit the wilderness camp because they want to experience the real Kimberley and at the same time immerse themselves in the journey of evolving Indigenous tourism at one of Australia's last outback frontiers. Tel: (08) 9191 7020 Website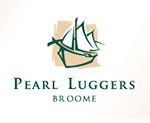 It is often said that Broome's pearling industry is as rich in culture as it is in pearls. Come and experience a fascinating insight to Broome's unique heritage at Pearl Luggers, in the heart of Broome's 'Chinatown'. Learn of the perils of the deep and discover first hand .. Tel: (08) 9192 2059
Sentosa Charters are Broome's premier marine charter company offering a premium service be it whale watching, private fishing charters or just cruising Broomes beautiful waters. We are a leading provider of all marine  tours in Broome! Email  Tel: (08) 9192 8163.
Travel in private, small group luxury 4WD Eco Tours to Remote Wilderness, Aboriginal Rock Art, Aboriginal Art Centres & Communities in Outback Australia with Spirit Safaris.
Tel: 0417 244 600
West Kimberley Fishing Tours "Barra and Reef" provide day tours from Broome in the Kimberley region of Western Australia.  We cater for the serious and novice angler, families and nature lovers. Choose from a variety of tours such as Sport Fishing Tour, Barramundi Tour and our Mud Crabbing Tour.
Tel: 0417 889 479
Discover how the rare and beautiful Australian South Sea Cultured Pearl is produced at the Willie Creek Pearl Farm.
Tel: (08) 9192 0000