Broome Caravan Parks all offer beautiful shady accommodation with most offering park homes, swimming pools, powered and unpowered sites and plenty of room for campers.  During the dry season, especially June and July, they are pretty full.  If you find them full, it might be a good opportunity to explore Dampier Peninsula or the beautiful gorges along the Gibb River Road.
Roebuck Plains Road House – Phone: (08) 9192 1880. Website coming soon! This caravan park is situated on the corner of the Great Northern Highway and Broome Road.
Broome Caravan Park – Phone: (08) 9192 1776. Located at 14 Wattle Drive on the Broome Highway.
Tarangau Caravan Park – is a small family owned caravan park, located behind the Cable Beach Club on the corner of Millington and Lullfitz Roads. They accept dogs throughout the year except during the peak season from June to July. Phone: (08) 9193 5084.
Cable Beach Caravan Park – Located 8 Millington Road, Cable Beach. Phone: (08)9192 2066
Palm Grove Caravan Resort – Located on the corner of Murray Road and Cable Beach Road West, Cable Beach. Offering self-contained studios and two bedroom park homes, some of which can accommodate up to 5 people with the hire of an additional fold-way bed. The Park Homes are located in a landscaped environment, with their own verandahs. Facilities include shaded swimming pool, free BBQ areas and laundry. All located a short walk from Cable Beach. No Pets Allowed.  Phone: (08) 9192 3336  Reservations: 1800 803 336.
Located right on Town Beach, Roebuck Bay. Town Beach Caravan Park has now been leased by Discovery Parks and has been extensively renovated. It now boasts a gorgeous new pool and some very modern almost finished tiny homes that look right over the bay. There are new bbq areas and toilet areas. AND a big bonus, dogs are allowed 😊 Town Beach cafe is currently not operating which is sad as this has long been a favourite for tourists and locals alike. The beach at Town Beach is lovely though not in the same class as Cable Beach but it does have a shady grassed area. It offers a range of accommodations including on-site vans, and powered and unpowered sites. Phone: (08) 9192 1366
Broome Vacation Village – Located on Port Drive opposite the Broome Golf Club. This park offers a range of accommodation including on-site vans, ensuite sites, powered and unpowered sites, along with cabins and chalets.
Phone: (08) 91921057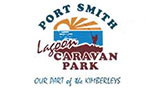 Port Smith Caravan Park – located approximately 160 km south of Broome on the Great Northern Highway. Phone:(08) 9192 4983 excellent website, lol. http://www.portsmithcaravanpark.com.au/
---
If you are traveling to Broome with your pets, here is some additional information.