Entrance Point Reef under threat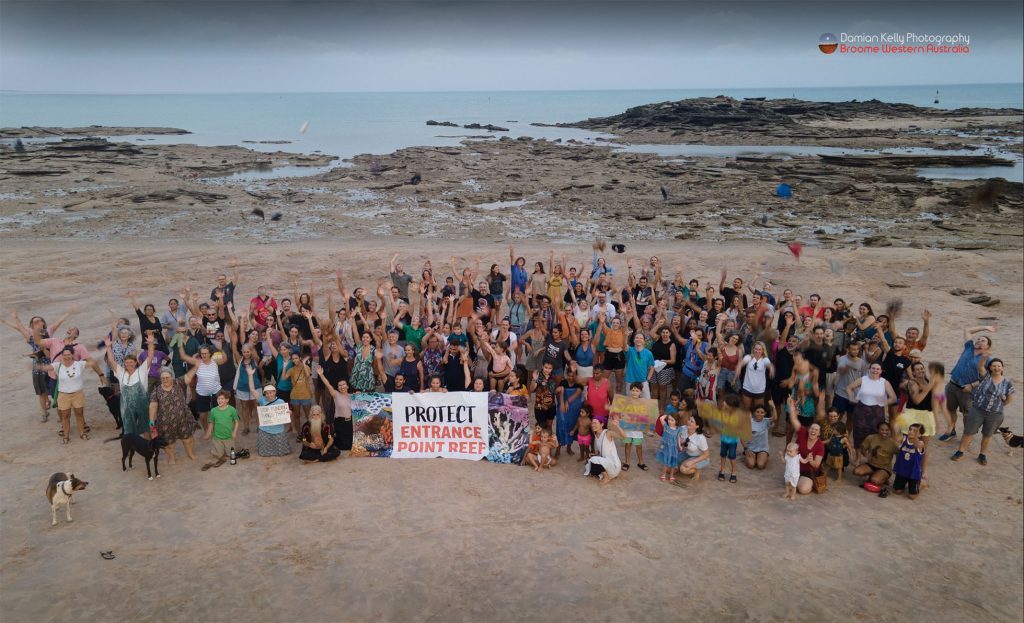 Privately owned Kimberley Marine Support Base (KMSB) Pty Ltd has been given permission to build a floating jetty to mainly service the oil and gas industry.
My question is why? Our Port Authority owned jetty has constantly run at a loss since it was built and given subsidies by the Government to keep it going due to the lack of traffic it has.
Why, therefore, is there a need for another structure that, rather than being a supposed floating jetty, is merely a replica of the existing one, with the exception that its very tip is designed to float?
Today I attended a protest rally at Entrance Point to support the need for proper community consultation and consent and a thorough investigation into the bio diversity of the reef through which they want to smash.
A heart wrenching speech was given by Ngaire Pigram (a proud Yawuru and Wajarri woman born in Broome) telling of her heart break when the machines came down to the reef last week and started smashing up the reef.
The Shire of Broome's Economic Development Strategy 2021-2026 says that it will advocate for Broome to be the logistics supply hub for mining, oil and gas, and agriculture.
The impact for Broome is that there will be bigger and more trucks driving through Broome, more planes, more helicopters, increased demand for housing which is at a critical level already, increased pollution and none of it has been properly planned for or costed.
How will this impact generations of Broome residents who have fished, dreamed and played at Entrance Point? Or isnt that important. Do we have no say?
Broome is a tourist town, not a logistics hub! It has been proven that there is more money to be made by many industries through tourism that will ever be made by turning Broome into a logistics hub which will line the pockets of the already rich.
There seems to be no end to the eternal protest that we face despite having an independent Environmental Protection Authority who seem not to care at all about the environment.
Quote from Environs Kimberley ..
We already know that industrialisation is a major threat to the tourism industry and Broome's natural environment.
This is the advice WorleyParsons (an engineering and consulting company) gave to the WA Government in 2009 as to the potential for an oil and gas supply base in Broome:
"[It] will alter the character of the town, shifting its image from a place for relaxation and nature and culture-based recreation to that of heavy industry and frenetic, large-scale industrial activity."
If you would like to register your name to the protection of Entrance Point, contact Kimberley Environs, there is a petition that needs 1,000's of signatures!