Public interest in the proposed gas project at James Price Point is "unprecedented"
Public interest in the proposed gas project at James Price Point is "unprecedented"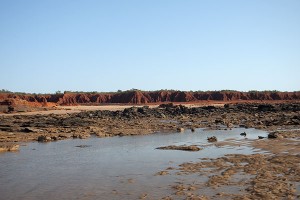 17th November – EPA Chairman collects Broome views on James Price Point – Flip Prior from Broome News Reports. Environmental Protection Authority chairman Paul Vogel has described the level of public interest in the proposed $30 billion gas project at James Price Point as "unprecedented" as he prepares to visit Broome to gauge community views on the proposal.
Mr. Vogel said no other resources projects in his 4 years as chairman of the environment watchdog had come close to the levels of community "interest, concern and anxiety", save for the proposed coal mine at Margaret River which the EPA rejected in March as environmentally unsuitable. "It certainly stands out for me," he said.
Four EPA board members will visit Broome today and tomorrow to meet groups including Environs Kimberley, Save the Kimberley, Shire of Broome, traditional owners and a limited number of interested community members. The controversial newly appointed, Elizabeth Carr to the EPA Board, will not be among the group or party to any discussions, Mr Vogel said.
Board members will visit the proposed precinct site and if tidal movements allow, the recently heritage listed dinosaur footprints that run in front of the proposed site. However, Mr Vogel said the EPA would not host a large public meeting as it would be a logistical nightmare to do so. He encouraged members of the public to get involved in discussions by contacting representative groups.
Mr Vogel stressed the agency was confined to assessing environmental risks and impacts associated with the development and not the social impacts on Broome but he said locals' views were still "immensely useful"to its decision making. If any concerns were reaised about the adequacy, timing or methodology of technical or environmental surveys, the EPA could request further work or an independent review, he said.
"That's what happened with, for example, the dinosaur footprints, as there was a view these were significant but hadn't been properly assessed," he said. Mr. Vogel warned the EPA's recommendations were not binding and Environment Minister, Bill Marmion would have the final say on the project. "We are advising, the Government will decide," he said. He said it was possible the Minister could reject the EPA's recommendations. "That happened with Gorgon, the Chevron Development on Barrow Island – The EPA said no and the Government said yes", he said. Mr. Vogel said the fact the State Government was the project's proponent had "not influenced the EPA one iota".
If the 4 board members reached a stalemate in making a decision, he would have the casting vote, he said. The EPA is due to make a recommendation to the Minister In January, followed by a two week public comment period. The Federal Government will release its environmental report about then.