Wednesday, 10th September, 2014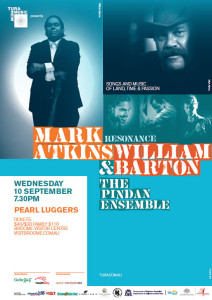 Didgeridoo Artists and Singers, William Barton and Mark Atkins feature in the Full Moon Concert at Pearl Luggers
Tura New Music in association with 2014 Shinju Matsuri Festival announces the 2014 instalment of Tura's multi-award winning Regional Touring Program in Broome.
The Resonance Tour brings together leading Aboriginal artists William Barton and Mark Atkins, both didgeridoo virtuosos and singer/guitarists whose music brings to life their own stories of country, history and passion.
This is a brand new program created in collaboration with some of Australia's internationally renowned musicians, coming together for this tour as the Pindan Ensemble: guitarist Stephen Magnusson, bassist Sam Anning and drummer/percussionist Rajiv Jayaweera.
Special guests will join in the collaboration for the Broome concert.
Resonance in Broome will be held at the beautiful outdoor venue at the Pearl Luggers on the edge of Roebuck Bay.
Resonance Tour Broome Concert: Pearl Luggers at 7.30pm.
Tickets: Broome Visitor Centre, Click here to book your ticket.
"A delightful celebration of contemporary, country, jazz, classical & traditional music."
"Barton is a phenomenal virtuoso, eliciting extraordinary colours and sounds" The Australian "Mark Atkins put the audience in a trance with one of the most sustained performances I have ever heard on that instrument, evoking a time and place long before the political troubles of the 20th century."
Arts Hub, Australia Tura Artistic Director Tos Mahoney, comments "We are thrilled to be returning to Broome with this enchanting show which is sure to satisfy those with a thirst for fine music across a range of styles.
That these international artists have gathered from the big stages around the world to so enthusiastically perform in Broome and across the Kimberley says a lot about the unique energy and musical connection that is produced on these tours. This means regional audiences not only get to hear these great artists but hear a very special, one off output of their music".

Mark Atkins – didgeridoo player, singer, guitarist
William Barton – didgeridoo player, singer, guitarist
Pindan Ensemble:
Stephen Magnusson – guitarist
Sam Anning – bassist
Rajiv Jayaweera – drummer/percussionist
And special guests.
The Resonance Tour also travels to Karratha, Roebourne, One Arm Point, Djarindjin/Lombadina, Beagle Bay, Wyndham and Kununurra.
The Resonance Tour is curated and produced by Tura New Music. Tura's Regional Touring Program makes a significant contribution to the social, cultural, educational and community lives of people living in regional centres and remote
communities of northern Australia.
Full tour details, including remote community events, at resonance14.tura.com.au
Resonance Tour Broome is presented in association with the 2014 Shinju Matsuri Festival
Tura New Music gratefully acknowledges
Major Tour Partner
Healthway promoting the Go for 2&5 Message
Pilbara Major Partner
City of Karratha
Media Partners
GWN7, Broome Advertiser, Redwave Media
Supporting Partners
Rowley Foundation, Air North, Shinju Matsuri Festival, Cygnet Bay Pearls, Kimberley Performing Arts Council
Venue Partner
Pearl Luggers
Tura New Music Government Funding Partners
Tura New Music's annual program is supported by the State Government of Western Australia through the Department of Culture and the Arts in association with Lotterywest, and the Australian Government through the Australia Council, its arts funding advisory body.
Tura New Music Ltd is a not-for-profit arts organisation based in Perth, Western Australia. Tura is a producer and an advocate for new music and the sonic arts.
Founded in 1987, Tura has a proud history of achievement in initiating cultural development in Western Australia from inner city Perth to remote communities in the Kimberley.
We support, advocate and ignite new music and sound art in collaboration with artists, our partners and audience members. With a fresh, edgy and professional perspective, we provide the means, support and opportunities that enable the relentless pursuit of musical discovery.
---
Tos Mahoney
tosm@tura.com.au
0412 779 807
Robyn Johnston
rjohnston@iinet.net.au
0408 954 540