Shinju Matsuri Long Table Lunch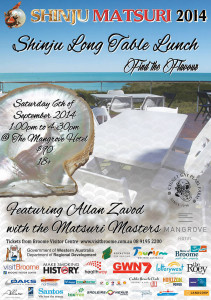 The Shinju Matsuri Long Table Lunch is sure to be a highlight on this year's calendar! At The Mangrove Hotel on Saturday 6th of September 2014. Tickets are $90 and on sale from the Broome Visitor Centre. Spectacular views and catering will be provided by the talented chefs from the Mangrove Hotel and the Aarli.
Shinju Matsuri is proud to present Dr Allan Zavod. 'Dr Allan Zavod is an internationally known jazz pianist voted in the "Top Ten US Jazz Pianists" of the 80's, having toured and recorded with celebrated international bands such as the Glen Miller Orchestra, Woody Herman, Maynard Ferguson and Jean- Luc Ponty culminating in a world tour with Frank Zappa which earned him 31st place in the "Top 150 Greatest Keyboard Players of Rock" and including him in the distinguished company of Sir Elton John, Billy Joel, Stevie Wonder, and many others. Dr Zavod was a teenager when he got his break into the big time – being accepted into a prestigious music college in the USA on the recommendation of the American jazz great 'Duke' Ellington. This break lead him into a career as a composer, pianist and bandleader of jazz orchestra spanning 30 years, and with many awards under his belt, most recently his achievements include a Doctor of Music from the University of Melbourne for recognition of his original contribution to musical knowledge Dr Zavod likes to support young musicians and promote his unique blend of classical and jazz music by offering young jazz musicians an opportunity for further development with the Zavod Classical-Jazz Fusion Performers Award, administered by Monash University and the Zavod Classical Jazz fusion composers award administered by university of Melbourne. During his time in Broome Dr Zavod will be visiting the schools to promote music development and to share his amazing musical experience. Dr Zavod will be accompanied by the Matsuri Masters at the Long Table Lunch, a collaboration of Broome musicians and singers including Rob Pascoe, Damian Watkiss, Tim Malone, John McDougall and Susie Quicke. This promises to be an exquisite afternoon of music.